Recipes
We would like to share a recipe with you every month using our seasonal produce.
Southern style spare ribs with orange & Halloumi salad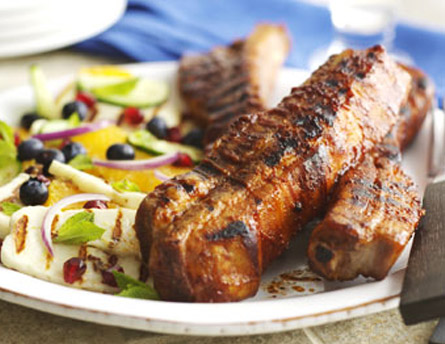 Our recipe this month comes from one of our suppliers, Packington Free Range who are based in Staffordshire and produce fantastic quality pork and poultry.

PREPARATION TIME: 25 minutes plus overnight marinating
COOKING TIME: 1 hour 10 minutes
SERVES: 4
Ingredients
12-16 Packington Free Range Spare Ribs
325g Halloumi cheese
4 tbsp tomato puree
75g blueberries
4 tbsp Worcestershire sauce
¼ cucumber, sliced
3 tbsp sherry
½ red onion, shredded
3 tbsp clear honey
handful of torn mint leaves
Dash hot chilli sauce
juice of 1 lemon
3 ordinary or blood oranges
4 tbsp extra virgin olive oil
½ - 1 pomegranate
1 tbsp Dijon or wholegrain mustard
Preparation method
Place the ribs in a large dish. Mix together the tomato puree, Worcestershire sauce, sherry, honey and chilli sauce. Stir half the marinade into the ribs to coat evenly. Cover, place in the fridge and leave to marinate overnight. Cover and chill remaining marinade.
Preheat oven to 150C / Gas Mark 2. Place the ribs in an oven proof dish and cook for 1 hour, basting occasionally.
Meanwhile stand the oranges on a board and using a sharp knife, carefully slice the peel and pith away from the oranges. Slice the oranges and pour any juices into a small bowl. Separate the seeds from the pomegranate.
Cut the halloumi cheese into 16 thick slices. Heat a non stick frying pan or griddle until hot and cook the slices, in batches for 2-3 minutes on each side, until golden.
Arrange the oranges, blueberries, cucumber, pomegranate seeds, onion, mint and halloumi slices on serving plates. Whisk together the reserved orange juice, lemon juice, olive oil and mustard until well blended. Set aside.
Preheat a grill or barbecue. Remove the ribs from the oven and drain off any excess juices. Stir in remaining marinade to coat evenly and then cook on low heat for about 5-10 minutes, turning occasionally until browned. Drizzle reserved dressing over salads and serve with the hot ribs.