Recipes
We would like to share a recipe with you every month using our seasonal produce.
Our recipe this month comes from Nick Campbell, Head Chef at the Plough Inn on Northfields Avenue, Ealing. He has kindly shared a delicious venison recipe, which is perfect for the game season.
Roasted loin of venison, creamed autumn cabbage, chestnut purée, roasted beetroot & parsnips venison jus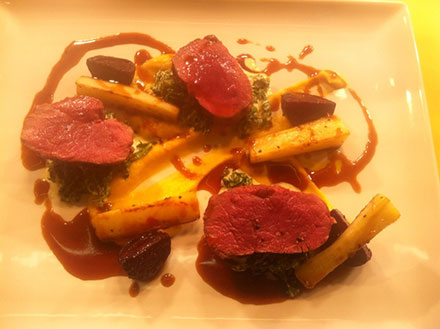 Serves 6
Shopping list:
- 1 loin of venison cut into 6 good portions
- 3 tbsp rapeseed oil
- Malden sea salt
- Cracked black pepper
- 3 crushed juniper berries
- 3 sprigs of thyme
- 1 clove of garlic
- 1 packet of cooked or uncooked beetroot
- 500g parsnips
- 2 tbsp honey
- 1 packet of vac packed chestnuts or a tin of chestnut purée
- 300ml semi skimmed milk
- 1kg curly kale
- 200g diced carrots
- 100g diced celeriac
- 150ml double cream
- 1 good quality beef jus - ask Rodney and I'm sure he can get you it!
- 200ml ruby port

Method:
First season the venison loin portions with salt and pepper and place onto a plate and place back into the fridge till needed.
Peel and chop the carrots and celeriac into a small dice ready for the cabbage later and set aside.
Peel and cut the parsnips into quarters and blanch in boiling hot water for 4 mins, once blanched refresh in cold water to stop them cooking.
Cut the cooked beetroot into quarters and along with the parsnips place onto a tray with the honey ready to roast.
Place the diced vegetables and the kale into a large saucepan with the double cream and salt & pepper and cook for 10 mins till the cabbage has wilted and the vegetables and cream coat the cabbage.
Now in a hot frying pan seal the venison loins on all sides and place into the oven at 180c for 12 mins along with the tray with the beetroot and parsnips on.
Place 6 tbsp of chestnut purée into a small saucepan with the milk and bring to the boil and set aside till needed.
Take the beef jus and the port and mix together in a small saucepan, bring to the boil and reduce to a sauce like texture.
Make sure you have hot plates ready and serve as above.
Hope you like trying this dish as much as I do.
Nick Campbell
Head Chef - Plough Inn